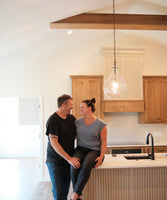 MEET LACY
I was my parent's interior designer at the early age of 10... I wasn't any good, but damn did I have an opinion about any updates that were happening at my childhood home. Things haven't changed, they're just a little more confident in my opinions.
Early into design school, I accepted an intern position for an interior design firm in Minneapolis and my first day the junior designer gave her notice and I was told to get in the car, and was whisked away to my first design consultation with the principal designer. Over the next 20 years, I found myself exploring sub industries in design: new construction, renovation, high end furnishings and project management. Eye Candy was the dream of a little girl, who always wanted a pretty little shop, full of pretty things to look at. So in 2015, when the perfect little shop space opened up and some encouragement from friends and family, Eye Candy Refind opened it's doors as a one of a kind, vintage and locally made furnishing and décor boutique. After 5 years, I was beginning to miss helping people in their homes.. So when our lease was up in our 8,000 square foot retail store in 2020, we took a pivot back to our smaller brick & mortar and focus on client projects and use our space as a design showroom for samples and office space.
With that, Welcome to Eye Candy Design, I am so glad you are here! What's it like to work with us? I don't just step into the role of "interior designer", but I also truly advocate and be the decision maker for your family and your home, putting form and function at the forefront of my designs, but also create spaces that reflect who you are as a family and what you enjoy. I work hard on your behalf to make the process enjoyable and efficient and at the end of the project.. leave you smiling and with a big hug.
Eye Candy Love
I simply cannot say enough about our experience with Lacy and Eyecandy.  We had recently lost 3 parents and had many of their belongings with decades of memories attached. Lacy helped us figure out the pieces that meant the most and work them into our decor.  She took old pieces and freshened them up.  Brian built us some new pieces that are custom and perfect.  When our friends come over they say our home looks like a magazine but feels like us.  We can use every inch of our house because while it is beautiful it is all meant to be used. And most importantly it feels like home.  It feels like us. Lacy has an incredible ability to make each project feel like the family she is working for.  I can not recommend her highly enough. Working with her was a pleasure.  Communication was easy and prompt. Deadlines were clearly communicated.

Kim C.
The team at Eye Candy is truly amazing. They took our vision and made it a reality. We walk into our house everyday and smile because of the little oasis they created for our family! Thank you a thousand times over. We can't wait for the next project!

Nikki H.
We hired lacy to help us with our lake home.  She handled everything from the larger pieces of furniture, down to the smallest finishing touches.  We felt so comfortable allowing her to just "do her thing", because she took the time to get to know us, our life style, and what we envisioned our home away from home to be for us.  To say she nailed it would be an understatement.  We love our lake home, and could not be happier!

Amy B.